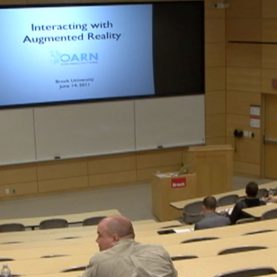 The Ontario Augmented Reality Network (OARN), which I've started with funding from the Ontario Media Development Corporation (OMDC), and in partnership with some great people, universities, organizations, and business, had its coming-out party at the OARN-organized, and OMDC-sponsored Interacting with Augmented Reality Conference on June 14 at Brock University. Thanks to all of our partners who helped organize, and thanks to those that attended.
After I introduced OARN and our goals for the next 2 years, Rob MacDougall led an AR demonstration. Working in groups, the delegates went on a 'hunt' for 13 different historical plaques with unique QR codes. They then used smartphones to scan the codes that loaded a URL with clues for solving a riddle. Rob gives his perspective of the eventhere.
Our Keynote Speaker was David Benyon, Director of the Centre for Interaction Design at Edinburgh Napier University. He spoke about the new experiences brought about by the different layers of experience that are evolving as digital and real worlds are increasingly intertwined, referring for example to a demonstration Blaise Aguera y Arcas gave at TED2010 of Microsoft's new augmented reality mapping technology.
We will be updating our Twitter account with updates on OARN and the Augmented Reality industry and hope those of you on Twitter will add us to your 'Following' list: http://twitter.com/#!/ontarioarn
Thanks to those who came, and to those following us. I'm looking forward to the work that we will do together in the months and years to come.